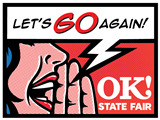 Registration for the OK State Fair Creative Arts Competition has begun.
It's free to register to submit your scarf to the competition. They display all the donated scarves together and then we pick them up at the end of the fair. Everyone who enters one receives a cool ribbon, and they even judge the scarves and award place ribbons to the ones they determine the top 10.
Free registration is online now through August 15th. You can submit up to 3 crocheted scarves and up to 3 knitted scarves. The details are all on the State Fair's website.